As the leaves turn golden and the air gets crisp, Thanksgiving is peeking around the corner, reminding us all about the beauty of gratitude and the joy of giving. But, listen girl, have you ever wondered how this season of thanks is toasted across the globe?
Buckle up, because we're about to embark on a gratitude journey that transcends borders!
Gratitude: A Global Affair While we, in the States, are roasting our turkeys and crafting the perfect pumpkin or sweet potato pie, let's take a moment to appreciate the tapestry of thanksgiving traditions worldwide.
It's a fabulous way to understand how cultures express gratitude, and hey, it might just inspire your next adventure with Explore Blue Travel!
Liberia: A Taste of American Thanksgiving In Liberia, Thanksgiving takes on a tropical twist. Rooted in American heritage, Liberians celebrate with church services and a cornucopia of local dishes. It's a heartfelt nod to their history, and a beautiful blend of the old and new worlds.
Germany: A Harvest of Thanks Enter Germany's  "Erntedankfest," a harvest festival that's all about giving back. With a parade and a crowned 'Harvest Queen,' it's a vibrant expression of community and thankfulness. Imagine the stories  you'd share back home!
Japan: Labor of Love "Kinrō Kansha no Hi," or Labor Thanksgiving Day, is Japan's way of honoring work and production. It's a day off for reflection and peace – something every hardworking woman deserves, right?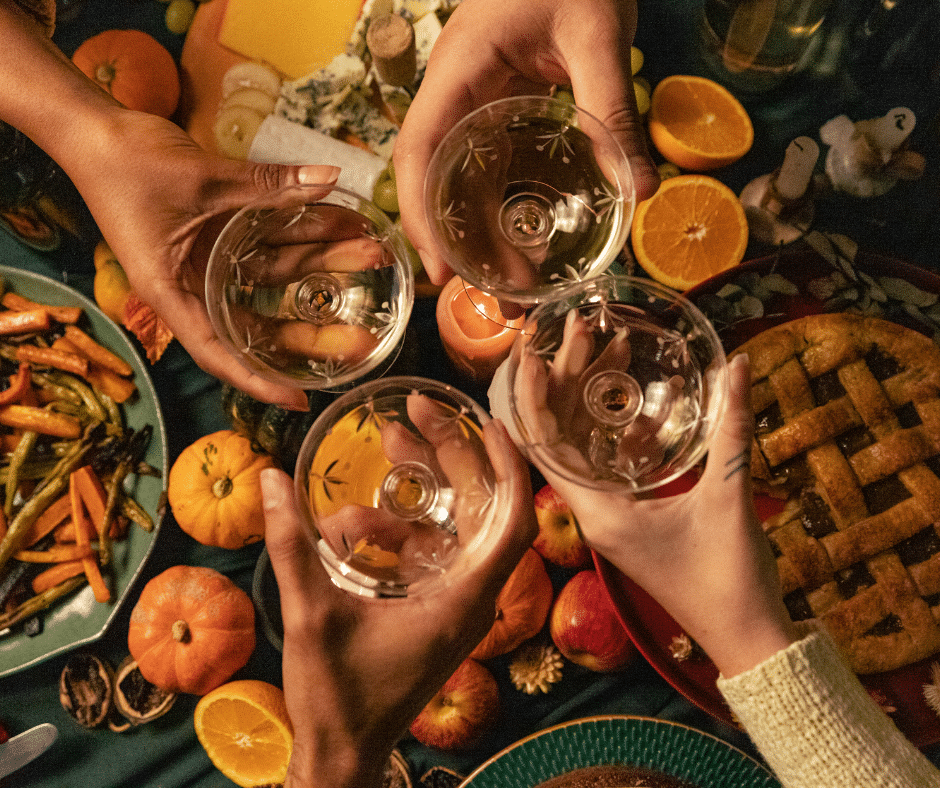 Giving Back: The Heart of the Season
Now, we all know giving is the essence of the season. Volunteering at a local shelter or donating to a charity warms hearts and spreads joy. But, darling, as you give to others, don't forget the ultimate gift – giving back to yourself.
Self-Care: Your Gratitude Gift. You're always doing all the things for everyone else, but how can you pour from an empty cup?
This Thanksgiving, let's flip the script. Treat yourself to a slice of self- love. Whether it's a solo
trip to a serene beach or a spa day in Bali, you deserve to be poured into as well.
Why It's Essential for Women
For all the phenomenal women juggling life's whirlwind, remember, self-care isn't selfish; it's necessary. It's the fuel that keeps you going, the spark that lights your fire, and the foundation of your ability to give to others.
Join the Gratitude Movement
So, if you ain't talking about vacation, what are you talking about? Let's make this Thanksgiving a starting point for a year of gratitude and giving – to the world and to ourselves.
With Explore Blue Travel, your journey of thanks can be as unique as you are. Join a group of like-minded women eager to embark on their next gratitude journey.
Ready to give thanks with a twist? Check out our Tours Page. We have destinations around the globe that'll peak your interest. Because, honey, time waits on no one, and you've got a world of thanks to give and receive.
Until our paths cross on one of our soulful adventures, keep the spirit of gratitude alive!
Don't forget to share this post with your tribe – it's a little act of kindness that goes a long way!
#ThanksgivingAbroad #GratitudeJourney #SelfLoveTravel #ExploreBlueTravel