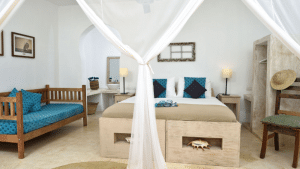 Listen, girl, whether we end up at the Ocean View Villa or the cozy bungalows, one thing's for sure: you're in for a treat! Both options are dripping in luxury and comfort, so let's break it down:
Nestled near the charming Jambiani village, our Ocean View Villa is a beachfront oasis that's a true embodiment of Swahili elegance. Think sea-view rooms, garden-view rooms, and a pool that's perfect for a refreshing dip. It's a tranquil escape, separated from dining areas by a lush, private garden.
Or imagine lounging in one of our three double-story bungalows, each offering the same top-notch comfort, decor, and amenities as our villa. You'll have sea and garden views right from your room, en-suite bathrooms, and private outdoor spaces to soak in that Zanzibar sun.
So, whether it's the villa's expansive luxury or the bungalow's cozy charm, rest assured, your Zanzibar ZenQuest will be nothing short of spectacular. Time waits for no one, and these heavenly lodgings are calling your name!